Biltmore Wine Estates
Winery Case Study
The Story of Biltmore
Established in 1895 by George Vanderbilt, Biltmore is an 8,000-acre estate featuring America's Largest Home in the Blue Ridge Mountains of Asheville, NC. It is also the most visited winery in the United States. Biltmore has a club called the "Vanderbilt Wine Club", and its members get all kinds of benefits, including exclusive access to a variety of wine-centric social events, and the opportunity to try savor handcrafted award-winning wines.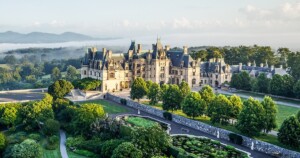 The Challenge
Biltmore managed their clubs manually, which cost lots of time and effort due to having to manually keep track of all factors of their club member's customer journey including orders, discounts, records, etc. 
How Biltmore Used bLoyal
bLoyal prevented Biltmore from having to further manage their wine club manually. bLoyal's solution helped them save a considerable amount of time by enabling batch processing of credit cards and order creation. bLoyal's integrations Counterpoint and Magento created a single customer record with a 360 view of Biltmore's wine club members. Magento also created real-time discounts for members. bLoyal manages Biltmore's club processing and marketing and segmentation efforts. 
Results