Counterpoint & WooCommerce
Introduction
Complete 360 (Formally Complete Nutrition) is a business that offers various products in the health and fitness industry such as protein powder, supplements, healthy snacks, and smoothies. They use bLoyal to manage their omnichannel membership program. bLoyal's solution enables them to automatically track and reward their members across their brick and mortar and rapidly growing eCommerce stores.
The story
Complete 360 is a locally owned health and nutrition business located in Victoria, Texas. They offer the newest supplements and vitamins, and the top brands in the health and fitness industry. The owners Brandon & Jennifer Webb have been in the health industry for nearly 10 years. Complete 360 also has a full-service Smoothie Bar and Food Section. Despite many small businesses across the country being negatively impacted during the COVID-19 pandemic, Complete 360 rapidly expanded, seeing an increase of almost 1000% in online orders.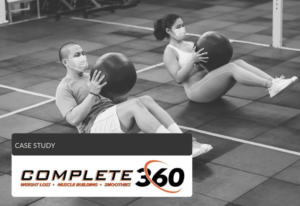 The Challenge of Manually Tracking Members
Complete 360 has a membership program that customers can buy to receive multiple benefits and rewards in the store. Previously, program members were manually tracked. As mentioned above, the pandemic dramatically boosted Complete 360's sales and expanded their customer base, while this was an absolute win for the store, the overwhelming increase of program members made manually tracking members increasingly time-consuming and a burden on ownership.
How Complete 360 Used bLoyal
Complete 360 chose bLoyal to significantly upgrade their membership program.  Disparate tracking of members was eliminated as bLoyal enabled them to do track members in one-consolidated customer record. Additionally, bLoyal's omnichannel capabilities made their signup process seamless. bLoyal's integrations to Counterpoint POS and WooCommerce connected  and consolidated all customer information making it easier for them to personalize their marketing, reward, and promotional engagement efforts.
Results
As demonstrated in the graphs below, there was a significant increase in loyalty program members in 2019, right after bLoyal and Complete 360 started working together. After the integration, the Complete360 team worked with bLoyal dynamic segmentation to launch targeted, personalized campaigns to their clients, increasing customer lifetime value and revenue.