How bLoyal helps Clover merchants increase their revenue!
Clover is quickly becoming a household name. It is an all-in-one point-of-sale (P.O.S) hardware and software system that uses first-class data to process all your business transactions. Clover merchant services have simplified business operations, making running a business easy and efficient. Clover systems help you take orders, accept payments, organize inventory, send invoices, and manage your business. However, with bLoyal, you can customize your clover merchant account to drive more revenue to your business. bLoyal helps Clover merchants by extending their brick-and-mortar experience online and opening fresh marketing channels to help increase revenue.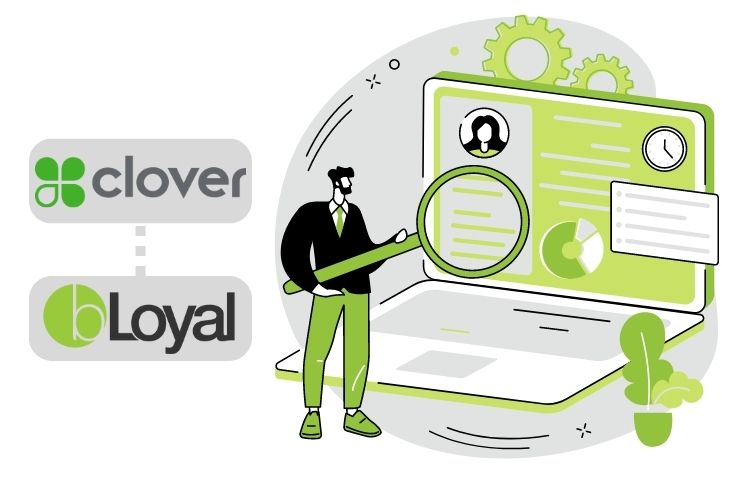 Five ways bLoyal helps Clover merchants increase their revenue.
1.     bLoyal integrates eCommerce with Shopify, Magneto, WooCommerce, WordPress, and Big Commerce.
Selling online? bLoyal creates a seamless customer record of all your customer transaction history (in-store and online data), generating a master record– the common point of connection. The master customer record optimizes your business operations for easier marketing and reporting. With bLoyal and Clover, you have a fully integrated loyalty, marketing, and inventory system with best-of-breed eCommerce platforms.
Access to this data enables you to personalize customer communications and offers and easily follow up on customer complaints requests in real-time.
Further, seamless brick-and-mortar and eCommerce integration means that customers no longer need to go through the hassle of driving to the store to purchase a product. With bLoyals' click-and-collect system, your customers only need to go online, click on the product, and payments, and select a delivery or pick-up option.
2.     bLoyal propagates loyalty programs
Today, every business is trying to grab the loyalty of its customers at every opportunity. As the old-aged marketing proverb goes, "retaining your customers is easier and more profitable than acquiring new ones." bLoyal loyalty programs go beyond other loyalty apps to help you maximize customer lifetime value.
Rather than other templated applications that use your proprietary data, bLoyal is a private-label program that works for you! bLoyal consultants will assist in the configuration of a personalized loyalty program that helps you attract new customers and retain existing customers to encourage more repeat business. When you reward your customers when they purchase a specific brand by awarding discounts and points on products, customers tend to buy beyond their fixed budget to earn the extra points or premiums. Awarding points and deals on your products and services undoubtedly increases your brand sales, skyrocketing your revenue.
Moreover, bLoyal has personalized account pages that make it easier for your consumers to check out new products and offer redemption anytime from the comfort of their mobile phones or laptops on your webstore.
3.     bLoyal uses automated clubs and subscriptions.
Creating a customizable membership site is one of the most seamless and best ways to increase your customer engagement and enrich your user experience. Offering memberships to your consumers remove future purchase decisions from your customers at the expense of an immediate discount or offer, now. Offering an automated monthly membership for services or discounted shipping is one way to increase your monthly recurring revenue and improve your customer experience simultaneously. bLoyal has a computerized billing system that enhances your financial and accounting process. An automated billing system reduces all the paperwork and spreadsheet errors, giving greater visibility into your real-time business performance. Also, it improves your invoicing process, saves your time in processing payments, and is accurate.
In this digital era, every business needs to have an online presence. bLoyal integrates your Clover merchant account to help you manage your customer accounts online. Customer accounts allow you to interact with your buyers online, providing relevant information about your products and supporting your clients in real time. An online presence builds your credibility and allows you to respond to your customers' queries faster. A timely response to your customers' needs promotes loyalty, encouraging them to stick around and purchase more from your brand.
4.     Omnichannel marketing.
An effective omnichannel marketing strategy is essential to every business. bLoyal has various real-time marketing channels that integrate with your customer database to facilitate smooth communication with your target consumers on different media channels. Omnichannel marketing allows you to meet your consumers wherever they are, with the right message at the right time. Sending eCommerce and P.O.S alerts, SMS, and relevant emails to market your brand direct to your consumers. bLoyal enables you to track your customers' journey and location automatically, making it easier to know what a specific customer is likely to buy now. For example, sending an email to customers from a certain city or zip code when you open a new store there and offering a discount would encourage them to buy there.
5.     Customizable omnichannel promotions.
Consumer promotions are an essential element in every competitive marketing strategy. However, planning for product promotions may be challenging for many retailers. bLoyal integrates your merchant account with your stock-keeping units (SKU) online and in-store to enhance an effective customizable promotion strategy. Omnichannel promotions create an accurate focus on sales and maximizing profit on S.K.U by making effective promotion plans to increase product category with long-term profitability.
bLoyal awards individualized and soon-to-expire coupons to your consumers to encourage immediate customer activity. bLoyal helps you as a clover merchant to establish a date on coupons issued to manage usage and create urgency for customers to redeem their discounts before they expire. On the other hand, personalized coupons are awarded to the target audience based on purchase history, location, and behavior. bLoyal ensures that you offer promotions to the right crowd at the right time to increase your revenue.
Offering buy-one-get-one-free (BOGO) discounts to your customers, encouraging them to stick to your services and brand products. Bogo discounts increase your product sales through promo upsells that enable consumers to try out your new products, thus increasing your conversion rates from marketing campaigns.
How will bLoyal benefit your business?
Integrating your Clover retail account with the bLoyal program offers your business many benefits. First, using the clover dashboard app, bLoyal makes it easier for you to manage your in-store and online experiences virtually or on your mobile app. This saves you time as you can operate and monitor your business and customers from anywhere. In addition, the automated marketing system, clubs, and promotion systems mean higher customer lifetime value and increased revenue for your business.
Bottom line!
Are you a Clover merchant account holder, and your retail business R.O.I is not corresponding? Act now and integrate your account with bLoyal to increase your revenue. Contact bLoyal today and let us help you transform your brick-and-mortar enterprise to the next level.
Please email us at info@bloyal.com and we will help you find the right solution to your problem as we connect you with relevant resources. Or request a demo with one of our specialists below!