5 Easy Ways to Increase Your Loyalty Program Enrollment
Loyalty programs are marketing strategies designed to encourage customers to continue to engage with a business or brand by offering them rewards, discounts, exclusive perks, or other incentives for their continued support and loyalty. These programs are typically designed to create a long-term relationship between the customer and the brand, aiming to increase customer retention and generate repeat business.
Loyalty programs can take many different forms, such as:
points-based systems, where customers earn points for purchases or other actions and redeem them for rewards, or

tier-based systems, where customers are rewarded based on their level of engagement or spending.
Some loyalty programs also offer exclusivity or access to products or services unavailable to non-program members.
In general, loyalty programs aim to create a sense of value and appreciation for the customer, which can lead to increased customer satisfaction, loyalty, and brand advocacy.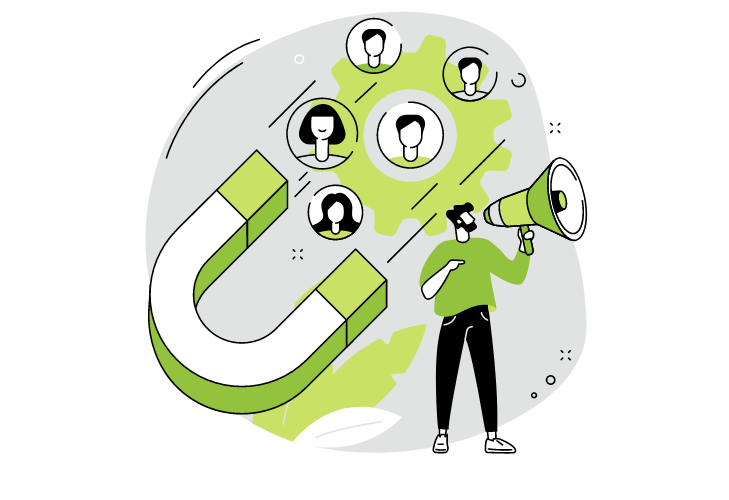 Without further ado, here are 5 easy ways to increase the visibility and appeal of your loyalty program enrollment, making it easier for customers to start engaging with your brand.
1. Use a customer-facing sign-up tablet or touchscreen display to allow customers to sign up for your loyalty program conveniently and efficiently.
Choose the right hardware: Select a tablet or touchscreen display that is easy to use, responsive, and reliable. You want your customers to have a smooth experience and not get frustrated by slow or unresponsive technology.
Simplify the sign-up process: Collect only the necessary information and use clear, concise language. Avoid asking for unnecessary details, technical jargon, or confusing terms.
Use engaging visuals: Use images and graphics to make the sign-up process more engaging and visually appealing. For example, you could use icons or photos to illustrate the benefits of your products or services.
Assist if needed: Consider having a customer service representative available to help customers who have questions or need assistance, especially if they are unfamiliar with technology.
Test and iterate: Test the sign-up process with real customers and gather feedback on improving it. Use this feedback to iterate and refine the process over time, making it as seamless and user-friendly as possible.
 Allow customers to enter their information and identify themselves to improve checkout speed and maintain customer privacy.
Use a secure system: Ensure your system is secure and protects customer data. Use encryption and other security measures to safeguard customer information.
Provide incentives: Provide incentives, such as discounts, special offers, or loyalty points. This will encourage more customers to enroll in the loyalty rewards program and part with their information.
Make it opt-in: Make sure the sign-up process is opt-in, meaning customers must actively participate. Don't force customers to provide their information to receive awards or discounts.
Respect customer privacy: Be transparent about how you will use customer information to start building trust. Let customers know how their information will be used and allow them to opt out of marketing or promotional emails.
2. Use a QR code at the register to capture more customer information and demographics during sign-up.
Make accessibility easy: Place the QR code in a prominent location at the register, where customers can easily scan it with their mobile devices. Make sure the QR code is large enough and easily visible.
Provide clear instructions: Include instructions on scanning the QR code and signing up for your program.
Collect relevant information: Collect relevant customer information, such as name, email address, phone number, and demographic data. This will help you better understand your customer base and tailor your marketing efforts to their needs and preferences.
Post Covid-19, many businesses like Starbucks, Sephora, The North Face, Recreational Equipment, Inc., and even designer brands have leveraged QR codes to provide a contactless and touchless customer experience. As a result, customers have become more familiar with QR codes to access information and make purchases.
By including QR codes in marketing materials such as flyers, posters, and social media posts, businesses can drive traffic to their website or landing page. This can be particularly effective for customer loyalty programs, promotions, contests, or special offers, as customers can quickly and easily access the information they need to enroll and participate.
Using QR codes in this way can also provide businesses with valuable data about their customers. By tracking the number of scans and clicks, businesses can measure the effectiveness of their marketing efforts and make adjustments as needed.
3. Create a loyalty landing page on your website to showcase your loyalty program and its benefits and build customer loyalty.
Clearly describe the program: Use clear and concise language to describe the loyalty program, including how it works, what benefits customers can expect to receive, and how they can enroll.
Highlight the benefits: Highlight the benefits of the loyalty program, such as discounts, exclusive offers, or early access to new products. Use images or graphics to illustrate these benefits for increased customer engagement.
Leverage customer testimonials: Include testimonials on the loyalty landing page to showcase the positive experiences of existing customers. This can build trust and encourage more customers to enroll. 9 out of 10 people say they trust what a customer says about a business more than it says about itself. (Wyzowl)
Provide sign-up instructions: Make it easy for customers to sign up for the loyalty program by providing clear instructions on how to do so. This may include a link to a sign-up page or a QR code that can be scanned with a mobile device.
Optimize for mobile: As many customers may be accessing the page on their smartphones or tablets, use a responsive design that adjusts to the screen size of the device and avoid using large images or videos that may slow down load times.
4. Offer an immediate sign-up bonus to incentivize customers to join your customer loyalty program.
Choose an attractive bonus: Choose a sign-up bonus that is attractive to customers and provides immediate value. This could include a discount on their next purchase, a free gift, or bonus loyalty points.
Make redemption effortless: Ensure customers can quickly and easily receive the benefit of signing up for your program. Consider sending the bonus via email or text or providing a coupon code that can be easily applied at checkout. Alternate options include Google Wallet loyalty cards, adding loyalty cards to Google Pay, cardless loyalty smart tap, or a loyalty credit card.
Highlight the bonus: Capture the attention of potential customers by prominently displaying the sign-up bonus on your website, in-store, or in any marketing materials promoting your loyalty program.
Limit the time frame: Consider limiting when customers can receive the sign-up bonus. This creates a sense of urgency (or FOMO) and can motivate customers to sign up sooner rather than later.
5. Implement pop-ups and alerts on your website to notify customers of the benefits they are missing out on by not partaking in your rewards program.
Benefits: You need to identify the benefits before creating pop-ups and alerts. This could include exclusive discounts, early access to new products, free shipping, or other perks.
Copy: Once you've identified the benefits, create compelling copy communicating what your customers are missing out on. Use strong and persuasive language to motivate them to join.
Timing: Pop-ups and alerts can be intrusive, so choosing the right timing is important. Consider triggering pop-ups and alerts when customers add items to their cart or browse your site for a certain length of time.
Design: Your pop-ups and alerts should stand out on your website, so use eye-catching design elements like bright colors, bold text, and appealing images of high quality.
Test and optimize: To ensure that your pop-ups and alerts are effective, test them and optimize them based on the results. Use A/B testing to compare different designs and copy and track the conversion rates of customers who join your loyalty program after seeing the pop-ups and alerts.
Ready to See More Revenue, Referrals, and Overall Growth?
Loyalty program applications like bLoyal can help businesses create more effective loyalty programs and build stronger customer relationships.
bLoyal provides a range of tools and features, such as customer enrollment, reward points tracking, promotion management, analytics and reporting, and communication and engagement, designed to help businesses engage with their customers and reward them for their loyalty.