How to have a successful text message marketing program.
Text messaging is a great way to deliver priority, high-value communications directly to your customers. Research shows that text campaigns can have open rates over 90% in comparison to an average open rate of 15% for emails.  bLoyal clients obtain a 3x higher action rate on texts vs email campaigns, so texts are proven to incite specific responses from your customer base.
Despite the effectiveness and directness of text campaigns, they should be used selectively. Many customers believe that texts can be intrusive of privacy, so it is important to follow a tried-and-true framework to respect your customer and build your brand. See our best tips for managing your text campaigns below: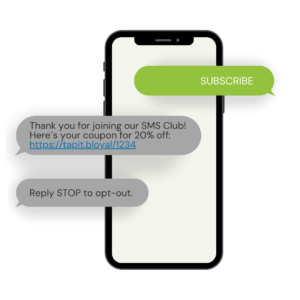 Obtain customer opt ins and prioritize opt outs

Deliver quality promotions via text

Personalize text messages

Transactional texts
1) Evangelize your program.
Your text program is only as good as the number of customers that are in it, and customers will only join the program if they know it exists. It is important to design calls to action for customers to easily join your text notification lists.  Add banners to your website, text to join forms at your cash registers, and train your sales associates to ask customers If they would like to join your text program at the register.
2) Obtain customer opt-ins and prioritize opt-outs.
It is important to obtain customers' permission to contact them via SMS. bLoyal recommends following a strict dual opt-in strategy when texting customers. Have them sign up and opt-in to receive texts and then automate additional automated text permission to customers to ensure that they want to receive your text messages.  In addition, it is important to provide clear instructions for customers to remove themselves (opt-out) from your text lists.   Adding a text to the unsubscribe option from any text campaign is an industry-standard requirement.
3)  Deliver quality promotions via text.
It is important to not overuse text as a communication medium.  If you are texting customers about a special promotion, it should either have a specific time limit associated or provide large value to the client.   Preformatting and automating text delivery at specific stages of a customer journey ensures that customers are receiving text messages at relevant times that will increase customer lifetime value.
For example, delivering a free shipping promotion to a customer with an abandoned cart or a coupon to a customer on their birthday is an easy way to increase purchase frequency.
4) Personalize text messages
Sending out generic, mass text messages is an easy to way to increase your campaign opt-outs.  Integrating your text messaging into your CRM or customer database is easy to personalize and improve your campaign strategy. Using purchase history to deliver promotions based on a customers' interest is a great way to increase purchase behavior.
6) Transactional Texts
Transactional texts refer to any text message sent from a business to a customer that provides valuable information about their product, service, or processes. They are most commonly automated; reducing the required human resources while delivering a higher level of customer service.
And just like that, you are ready to launch your text messaging campaign without a glitch!
With bLoyal you can start using this must-have tool for successful businesses in 2022. Amplifying your customer experience journey and start sending text campaigns ASAP. Interested in learning more? Click here to request a demo of bLoyal.