Sunshine Health Foods
Retail Case Study
Sunshine Health Foods, a natural health foods & nutritional supplements store, saw bLoyal as a great opportunity to build a point-of-sale integrated membership program that allows their customers to accumulate reward points that can be converted into a store credit on their accounts.   Launching a loyalty program increased Sunshine Health Foods' membership and average transaction size allowing them to expand and open another store.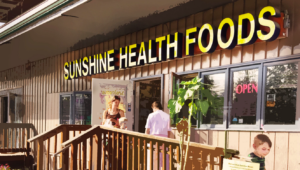 The Story of Sunshine Health Foods
Sunshine Health Foods is a local "mom and pop" store that has been independently owned since 1974 and has had the desire to bring health and joy to the Interior. They carry a large variety of products, including supplements, and groceries, but also have a library, gift section, and a cafe. Can't find what you're looking for? They will order specialty items upon request!
Results
They started using bLoyal in 2018 and saw an immediate increase in member enrollment. Sunshine Health Foods has a current member base of around 25,000 loyalty program members within their two stores and website.
The membership program and the bLoyal platform enabled Sunshine Health Foods to aggregate member information for personalized offers and communications.   Targeted, personalized promotions have had a demonstrable effect on the stores' sales.  Members spending increased.
As we can see on the graphs below, one of the benefits of offering a loyalty program to their customers was that it encouraged repeat purchases.  Members represent nearly 75% of total revenue and have average transaction value of +50% that of nonmembers.