Advertising Your Loyalty Program
Summary: Kick your loyalty program into high gear by leveraging online advertising to bring in new customers and reengage old ones. This post offers an extensive guide on how to use landing pages, search advertising, remarketing, and retargeting to grow your loyalty and rewards program.
What are the benefits?
We know that loyalty and club program shoppers are some of your most valuable. And we're not talking chump change here, either. These customers represent between three and seven times non-program member's average order value and almost triple their customer lifetime value.  So, when it comes to getting the most bang for your marketing buck, what's not to love about loyalty, right?
Unfortunately, many retailers end up relegating their loyalty program investment to the point of purchase, building new membership only through POS display collateral, loyalty programs pop-ups on their website, etc. While these are smart best practices to keep in place, stopping there artificially throttles your program's reach by limiting exposure to customers who actually make it to your store or website.
A well-executed loyalty and rewards program can, and should be leveraged as a tool to earn new customers, not just retain existing ones. Doing that effectively means going outside the box and engaging potential shoppers that may have little to no experience with your brand. You want to reach customers before they've arrived at the point of purchase. We call this the "zero moment of truth" and it represents that short time frame between your customer's realization that they're in need of a product or service and deciding how they want to fulfill that need.
Getting Started
So what are the most successful methods for letting your loyalty flag fly – for beginning to take full advantage of the investment you've made and turn that into an increase in your bottom line? There are a lot of ways to get started; email, social media, and text marketing, to name a few. One of the most oft overlooked methods of growing program membership however, is advertising.
"But doesn't advertising add further cost to my discount program? "This simple answer is "yes". The complete answer is that given the long-term ROI we've mentioned above, it's well worth the investment. These shoppers spend more, maintain a higher frequency, and are more vocal about the brands they do business with. Businesses utilizing bLoyal who have engaged in advertising their loyalty programs report an almost 40% lift in program membership – a hard number to ignore.
The purpose of this guide is to give you a 30,000 ft. overview of how to get started with online advertising for your loyalty program.  Deservingly so, there are almost limitless resources to learn more about the general practice of digital marketing, including PPC, display, social, and much more. We'll link you to the ones that have always been great resources for us and give general pointers, where applicable.
For the purposes of this guide, we've also stuck mostly to Google's AdWords. Though the exact terminology may differ slightly between other platforms and ad networks, such as Bing, Yahoo, Facebook, etc. the broad strategy remains the same.
Build a Loyalty Program Landing Page
In marketing, we traditionally think of a landing page as a B2B tool. First, we want you to throw that notion out the window. Landing pages can serve a variety of purposes and happen to work great for any situation in which you, the seller, have highly targeted content, specific goals, and a strong incentive – that includes converting digital passersby into new program members.
What should the content look like? Universally, a landing page has a couple of primary components including:
Value proposition(s)
What's in it for your customer? Your value props should offer clear and relevant value to the customers you want to attract. Make sure that the content on your landing page matches the value proposition of your ad. For example, If you're advertising 20% off of lamps, make sure that there are lamps on your landing page.
Call-to-Action
Tell your visitor what you want them to do with a strong call to action. A call-to-action should imply a specific action you want your customer to take and what they will get for taking it and imply some level of immediacy.
"Join now and get 20% off of your next purchase!"
"Earn triple points for your first month by signing up!"
"Become a(n) "XXX" club member by joining below!"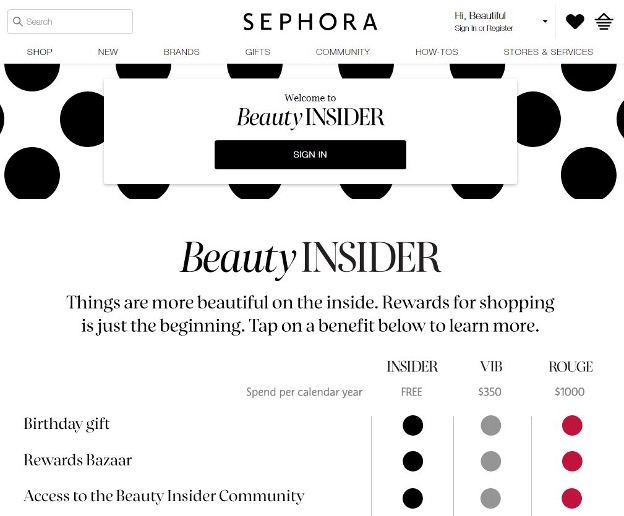 Easy Access Form
Add an easy way for customer to give you their information. Your form shouldn't be the MVP of your landing page, but it should be clearly visible and easy to understand. As marketers, we're data hungry. We want to know as much about our customer going in, as possible. Keep in mind however, the more fields in your form, the less likely customers are to convert. Try to keep your form short and simple. You can add more info to each customer record as the customer checks out.
There are lots of ways to create a landing page for your loyalty program. If you're looking for an easy one, we suggest Unbounce. This will be especially helpful if you're in the small business arena. Unbounce is an incredibly powerful, but very easy to use drag and drop landing page builder.  It will allow you to A/B test landing page variants and provides an internal dashboard to view both your ad performance and conversion metrics. Unbounce integrates directly to bLoyal so that any new program members can be imported directly to your software.
Tip: Over 55% of web traffic is now generated through mobile devices. Increase program conversions by ensuring that your landing page has mobile friendly design.
Program Benefits
Offer a highly specific and bullet pointed list of all the most important benefits of being a member of your business's loyalty programs. Some of these might include:
Free Shipping on Orders Over "X" Dollars
Gain Early Access to New Products
Get Automatic VIP Upgrades
Current Promotions
Loyalty members are part of a special club, make them feel like it. Letting potential club members know about ongoing exclusive member discounts they're missing out on by not being a member helps add value to your program and makes users feel like they aren't giving their personal information away for a one-time discount.
Discounts on Certain Brands
Point Multipliers, Specific SKUs, and SKU combinations
Product Giveaways & Add-Ons
Instant Rewards
We cannot emphasize this next point strongly enough:
Once you've got a customer to your landing, one of the single most effective things you can do to increase program sign up is to offer an immediate incentive. Over ten years in the loyalty marketing realm, and this is one of the very few constants. New visitors to a landing page consistently show an increase of over 60% in program signups and 40% in program stickiness when they receive an immediate joining incentive.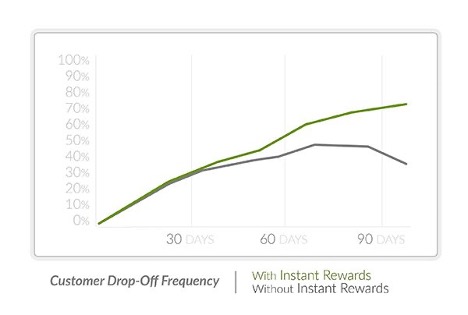 Tip: There are a variety of loyalty program platforms that will allow you to do this, but whichever one you choose, it must be integrated with your point of sale or eCommerce solution
Anatomy of a Great Search Loyalty Ad
Now that you've got a great new landing page, it's time to set up your ads. Remember that the ad itself is your opportunity to jump in at your customer's zero moment of truth – when they've determined a need, but not yet how to fulfill it. Your loyalty program is the answer to that question and the relative strength or weakness of your ability to address a potential shoppers' need, is what will be driving clicks. Your ad should serve as a microcosm of your actual landing page, giving an ultra-compact view of the information contained therein.
Call to Action
Again, a strong call-to-action is going to be essential. You want to concisely communicate an immediate reward and what the potential club or program member must do to achieve it. This text will comprise the main body of your ad.
Depending on the platform, you'll have a limited amount of characters here. While channels such as social media often provide you with more room for text than something like Ad Words, the people viewing your ads will often not read past the first line or two and creating paragraph long ads can often feel overwhelming to the reader. Your goal is to pique their interest and get them to click, not use the ad to tell them everything about your product.
Extensions
Fortunately, most search-based ad platforms have found creative ways for you to communicate more complex sets of value props, contact information, ratings and more. Using these tools will not increase the price of your ad, but will give it a more substantial footprint and significantly impact the number of clicks you may receive.
Callout Extensions
Use AdWords "Callouts" feature, for example, to expose valuable pieces of information about your loyalty program within the ad, itself. You can use "Callouts" to feature special loyalty program pricing, benefits, and promotions.  If you're running a club program, such as a wine club, "Callouts" are a great way to showcase your various membership levels.
Learn more about Callouts Extensions here.

Call Extensions
Some potential program members just feel more comfortable talking to a person. Call extensions in Google can be used to direct people to a specific loyalty program specialists at your call center where they can sign up or get more information. Call extensions can be particularly helpful on mobile where a they make it easy for a person to contact you with a single click.

Location Extensions
If you have a brick and mortar store, "Location Extensions" are a must-have. These links offer a way for customers searching for a product or service to quickly find you. Given the choice between two products, equidistant away from the searchers locations, they will choose your location when it is combined with an offer or promotion. If your loyalty program is integrated, it likely works in real time, meaning that customers can even signup on their device and begin using their membership by the time they arrive at your store.

Dynamic Keyword Insertion
Otherwise known as "DKI", Dynamic Keyword insertion can be an invaluable tool for marketers looking to expand their loyalty program. This tool allows you the opportunity to dynamically insert any number of relevant keywords into your ad based on what a user is searching for.
For example:
A search for :
"Red Lamps"
Returns a search result of

Your search ad will replace the bold text in your ad with whatever the person is searching for.
A search for:
"Green Lamps"
Would return a result of:

And so on… DKI isn't a new strategy, but it can be a powerful one when combined with loyalty programs, allowing you to surface program benefits to an almost unlimited number of terms in your specific vertical or geographic area.
Learn more about dynamic keyword insertion here
Targeted Advertising
It's time to find new customers for your loyalty program and well crafted targeting will be instrumental to getting the most bang for your buck.
Start With Your brand – Almost any marketer engaged in search advertising is targeting against their own brand. Many times this is to prevent competitors preempting your organic search listing with their own ad. However, many times this ad just ends up duplicating your organic content.
For instance:
Ad Listing: "Come Shop at Bob's!"
Organic Listing: "Bob's Furniture Warehouse"
An alternative search advertising strategy is to turn your brand's native ads into an opportunity to join your loyalty program. This will ensure that your content is seen first and that you're not duplicating existing organic content.
For Instance:
Ad Listing: "Join Bob's Loyalty Program and get 20% Off"
Organic Listing "Bob's Furniture Warehouse"
The difference is subtle, but this strategy offers a way to connect your natively targeted ad with a specific conversion, instead of just duplicating your search listing.
Tip: Place a pass-through link to your main website on the landing page so that customers who may be interested in some other aspect of your business can get there without having to click the "Back" button.
Compete – You're offering great discounts and promotions. Use them to win over searchers going to competing brands' web pages.  A loyalty program with a strong incentive based call-to-action could very well be the tipping point in whether a customer purchases a product from you or your competitors. Try launching a campaign against a competitor's brand with a strong joining incentive for shopping with you, instead.
Tip: Launching PPC programs around the term "Loyalty" can be dangerous. Unless you frequently monitor the "search terms" report in Ad Words, your ad will get served against a wide array of loyalty based searches. It's better to launch campaigns based on specific products you sell.
Beyond Search
Search advertising is a great start for those just starting out in advertising their loyalty programs. If you're feeling confident and want to up your game, move on to some display, social advertising and text marketing, next.
Remarketing & Retargeting
Depending on how advanced your PPC program is, many brands have a fun opportunity to dive into some highly targeted and very effective advertising strategies for increasing loyalty program membership with remarketing and retargeting.
Remarketing works by placing ads for your loyalty program, at large, in front of people who have visited you or your competitor's websites. These ads can be served on related websites, mobile devices, etc.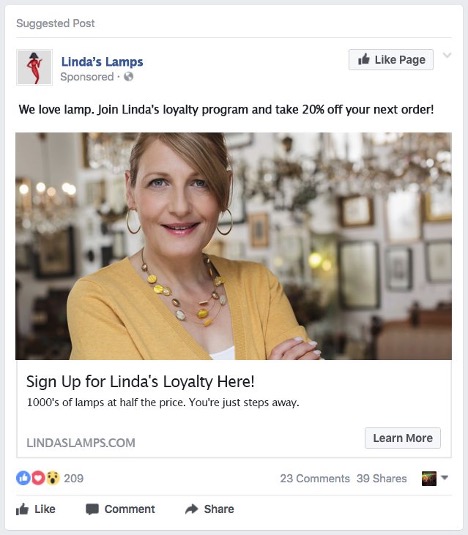 Retargeting, though somewhat more complex in nature, works in much the same way, but with specific products. For instance: You know that a customer has visited a product on your website. Putting that product back in front of them is a no-brainer. Retargeting has shown to be one of the most successful ad strategies for retailers engaged in digital marketing. Take the next step by telling them that they can get that exact product for "X%" off, by signing up for your loyalty program, now.
Don't stick to just Ad Words here. Social media is an incredible place to convert loyalty program members using retargeting methods.
Loyalty Retargeting
Okay okay, so most of this post has been about how to grow your loyalty program membership through advertising. We'd be remiss if we didn't dig a little bit into the fact that growing your loyalty program, both in scope and reputation, starts with keeping churn down and stickiness up.
One of the greatest advantages to integrated loyalty platforms, like bLoyal, is SKU level segmentation. With this function, you can create custom segments based on your loyalty program member's purchase history. Want to win back shoppers that haven't visited to you in a specified period of time? That usually spend under a certain amount? That love red lamps? Get started by pulling a report of who these customers are and uploading that list of contacts to Facebook, Instagram, Twitter, or Pinterest in order to reach just existing loyalty program members with specific discounts that address the segment you want to reach.
For example, target loyalty program members who have looked at red lamps in the past 90 days with club advertisements: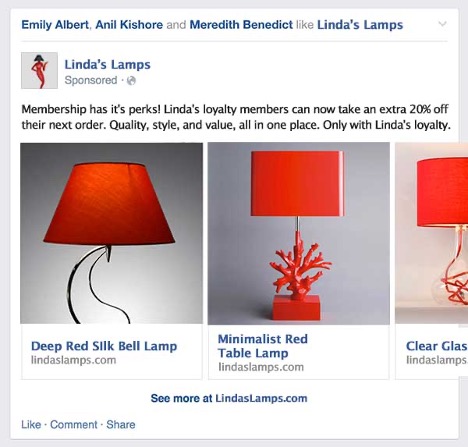 This strategy can be used to great effect within the first couple of months of your program member's signup. Any marketer with experience in applications can give you a couple of pointers here, but your basic goal is to create a pattern of b­­ehavior that reinforces their initial signup. If a customer engages your loyalty program at least three times within the first ninety days of joining, the likelihood of their adoption of your program into their normal path-to-purchase, sky rockets.­­­
Found a loyalty program advertising strategy that's working great for your business? We'd love to hear about it! Drop your thoughts in the comments section below and we'll reply as soon as we can.