How to Build the Best Loyalty Points Program
75% of consumers say they favor companies that offer rewards. With that in mind, it's no surprise that loyalty points programs can be a real game-changer for businesses if created with precision and care. If you haven't launched one or even considered it, then consider this; your competitors have already implemented a loyalty program.
Building the best points programs can be hard work, but the benefits will be well worth it in the long run.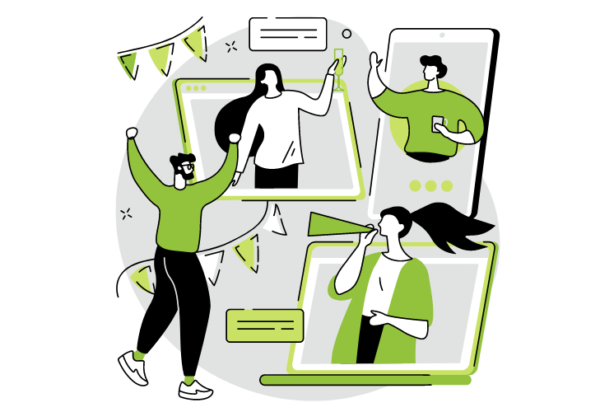 Set Goals for Your Loyalty Program
What do you seek to achieve from your loyalty program? Figuring out the "why" will help you define your short-term goals, such as Average Order Value (AOV), increased purchase frequency, and elevated engagement, and long-term goals, such as building and strengthening customer relationships, and ultimately brand advocacy for successful future decision-making.
A recent study found that US consumers are more than 5 times as likely to make a big purchase due to a recommendation from a trusted friend or family member (65%) than as a result of seeing an online influencer own or endorse the product/service (12%).
But not all goals are solely monetary. For example, data collection continues to be one of the leading reasons brands invest more in their loyalty programs. As high as 58% are data pragmatists who "will make trade-offs on a case-by-case basis as to whether the service or enhancement of service offered is worth the information requested."
Goal alignment requires a clear understanding of your strategic goals and supports the achievement of these goals on both a macro and micro level. Consider these 3 steps:
Set clear business goals at a macro business level by identifying key challenges, opportunities, and expectations.
Set loyalty program objectives that will effectively drive your macro goals.
Define micro goals or Key Performance Indicators (KPIs) to track program effectiveness. These include measurable success metrics.
Determine How Customers Earn Points
Use transactional earnings to define how many points can be earned based on transaction attributes, such as offline or online shopping, and combine these with time, segment, location, etc.
Or…
Reward loyal customers with behavioral earnings based on the actions they've taken. Encourage customers to perform actions such as referring new customers, subscribing to your newsletter, making repeat purchases, etc.
Financial benefits are either percentage-based or fixed-amount discounts, and customers generally expect some form of monetary benefit. Coupons (especially as a welcome reward) are effective for boosting member acquisition and are easy to implement.
Events and experiences allow you to use your creativity and are great opportunities to boost lifetime brand love and advocacy. Conversely, a more exclusive reward should be less attainable.
Gifts are perceived as more valuable and desirable than a simple coupon and are also great mystery rewards if you wish to surprise members. However, some gifts require manufacturing or prolonged acquisition.
Service-related benefits, such as express shipping or money-back guarantees, have the goal of making the shopping experience more convenient from a customer's perspective. These benefits tend to generate positive word-of-mouth, but only if they are exclusive.
Custom rewards are unique and brand-specific, which can distinguish your business from the rest. Create custom rewards using your creativity, customer insight, and resources.
Choose How You're Going to Reward Your Members
Defining program logic is the crux of a smooth customer loyalty program launch. This process relies heavily on the type of loyalty program you choose.
Point logic: If your loyalty program offers some kind of currency or points, they should come with certain conditions, such as refund rules, rounding logic, expiration dates, etc. You should also consider how many points certain rewards will cost and dedicate time to calculating how many points additional actions would be worth, such as enrolling in the program or writing a product review.
Tier logic: If you are planning to create a tiered rewards program, first, you must decide how many tiers you will offer (3-5 is optimal), specify whether the tier system is points-based or spend-based, and what the point / spend range should be per tier. If applicable, don't forget about tier expiration and how members will be downgraded.
Rewards: Do you plan to offer monetary rewards like coupons, or more experiential benefits? You should consider costs (for you and the customer), decide whether rewards can be claimed multiple times by members, and whether unused rewards will have an expiration date.
Decide on the Value of Your Currency
You should regularly audit the value provided by your points programs to create sustained engagement with your current and potential members.
Cash value is a no-brainer. It is the financial value customers receive from participating in your points program. You can determine your program's cash value by calculating its reward ratio – how much a member receives in terms of free reward for every dollar spent.
Use this general formula to calculate your program's reward ratio:
Reward ratio = (Reward value ÷ Points required for the reward) x Number of points earned per dollar.
If you already know the average value per point, you can also directly calculate your reward ratio as the average dollar value per point × number of points earned per $1.
Aspirational value is the level of psychological motivation offered and goes beyond the financial value of free rewards. Offering any customer the possibility of an exclusive pampering experience is likely to create a sense of excitement and motivation.
To increase the aspirational value of your points program, you need to go beyond practical rewards and consider hedonic and status-oriented offerings. Besides expensive pampering experiences, potentially less expensive but still relatively high aspirational rewards can include movie tickets and VIP status.
No matter how aspirational or financially enticing your rewards are, the average customer will not be motivated if they don't see any hope of ever getting the reward.
The time it takes an average customer to earn a free reward is a good benchmark for measuring relevance. In other words, how long will it take for an average customer with an average spending level to earn at least one reward?
If your product belongs to a frequently purchased product category, the time taken to earn a reward should be shorter than if your product is from a less frequently purchased product category.
Your points program goal also matters. Whether you reward the best of your customers or encourage current light buyers to move up the scale, relevance would be critical.
Choice of redemption options refers to the program's diversity of redemption options. It is important to balance the cost and diversity of redemption options, since maintaining a wider variety is typically more expensive.
It is also best to choose congruent rewards that reflect the concept and values of your brand, thus reinforcing brand associations in your program members' minds.
A high-value program for consumers should be convenient to use.
This convenience involves all aspects of your program, including understanding rules, earning points, checking your balance, and reward redemption. Remove process barriers and make them as frictionless as possible.
One of the lesser-considered values, the social value of a points program, offers members opportunities for social engagement and a sense of belonging.
Social value often comes from program marketing and communication and can be built into a loyalty program during the design phase by integrating a social experiential component.
Brand Your Loyalty Program
Creating a culture within your customer base and developing meaningful emotional connections beyond transactional discounts demands an on-brand loyalty program. This reinforces your brand messaging and provides a better shopping experience for your customers.
Whether your branding is fun or serious, you can reflect this in your labeling. Give your loyalty points program a unique name, so it stands out from competitors, reinforces your brand's overall tone of voice, and distinguishes it as more memorable.
Your loyalty program should also be a prominent part of your website. ‍Whether your website contains helpful information about your brick-and-mortar store or involves e-commerce, it should have a dedicated loyalty program explainer page. Include all necessary information in as few words as possible, preferably with some vibrant imagery to draw attention!
Whatever your brand's core values are, make sure they are reflected in your rewards program by weaving them through the rewards themselves.
The process from signup to accumulation of points to redemption of rewards should all be kept simple. ‍Overly-complicated processes and procedures will only frustrate your customers and discourage them from interacting with your brand. Try to make simplicity synonymous with an efficient and streamlined loyalty experience.
Use clever imagery with your brand's colors and style. Aesthetics are crucial and consistency is key. Members will forever associate the aesthetic with your brand, and it will also build brand awareness among non-members.
Finally, include a loyalty program signup call-to-action on your customer receipts or emails, as these are something that every customer is exposed to. There are even automated tools that calculate how many loyalty points a non-member could have earned for their purchase – which creates an extra incentive to join!
Launch and Advertise Your Program
Once you have laid down the basic foundation, it's time to think about the user journey and engagement.
Since a good first impression is key to success, it's important to get the enrollment and opt-out processes right. Enrollment process best practice should be kept short to save the customer time. Additional data can also be collected later on. As for the opt-out process, even though it's not a positive experience from a business point of view, it should still be quick and painless for the customer. Consider ways you can learn or benefit, for example, by asking members why they decided to opt-out.
Loyalty campaigns are limited-time or segment-specific events that enrich the core experience by offering double points, instant rewards, or other perks. In your loyalty points program concept, list any loyalty campaigns that you are planning to launch right after the program goes live.
Challenges are a series of actions that members will need to complete to claim the prize. To plan a challenge, list all the actions and specify what reward they will receive once they've reached the finish line.
Reporting and tracking KPIs after the program has launched is a common mistake. If you do not factor in reporting capabilities early in the planning process, you may miss out on valuable data.
To build the best points program, brands should continuously keep their finger on the pulse of what their customers want. This will allow deeper customer relationships, generate a closer emotional connection, and encourage customers to be loyal. By properly engaging with new and current customers through your brand's loyalty points program, businesses can build a branded community and create brand advocates.
Schedule a demo with bLoyal today to learn more about getting your loyalty points program off the ground!