How bLoyal helps WooCommerce users Optimize their loyalty programs!
A loyalty program is considered one of the most proven ways to increase a company's revenue. Briefly explained, a loyalty program is a strategy used by businesses worldwide to reward their customers for spending more. The more a customer spends the more they earn in discounts, promotions, and special offers.  It could be hailed as a perfect example of the phrase "win-win situation". Customers are rewarded for staying loyal to a specific business and businesses are rewarded by having continuous transactions with their loyal customers.   So, with all that being said, why not explore launching a loyalty program for your business?
WooCommerce users can get the benefit of an out-of-the-box integration with bLoyal that can help businesses of all sizes easily launch a loyalty program across their brick-and-mortar and eCommerce stores.
Sound interesting?! See how launching a loyalty program can benefit your business below.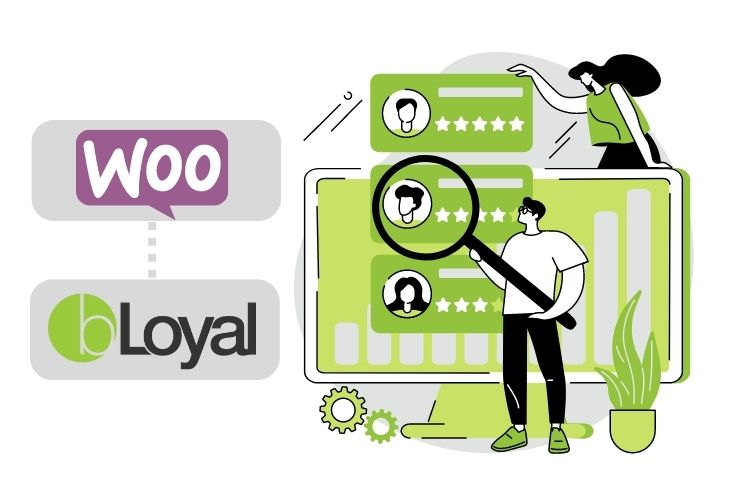 Loyalty Programs encourage repeat purchases.
Every successful business will attribute its success to a loyal customer base. Loyal customers are truly like gold nowadays. They can be depended on regardless of the macroeconomy.  With the multiple options each customer has for any kind of product they need, it is tough for businesses to retain customers without incentives. Creating a very effective and efficient loyalty program will increase Customer Lifetime Value (CLV) by encouraging larger purchases, with more frequency, over a longer period of time.
Integrate to your point of sale
In the post covid era, almost all businesses are operating in a multi-channel environment.  However, many companies are still attempting to manage eCommerce and brick-and-mortar stores with minimal or no data syncing.  bLoyal can help you optimize your inventory, reporting, discounting, and communication strategies by providing near real-time customer, product, and transactional information from your point-of-sale system.   This will enable you to spend more time on strategy and less time on management.
To see a list of integrations, click here: https://bloyal.com/integrations/
Dynamic Coupons
There is never a tomorrow in business. You want as many people as possible to make purchases from you today. To attempt to increase purchase frequency and decrease promotional breakage, it is important to expire coupons and offers. Giving customers a limited redemption window reduces your liability and encourages a faster redemption cycle.  bLoyal coupon functionality automatically integrates with the WooCommerce cart to enable you to configure personalized coupons at the right time with limited risk.
Customer Journeys
Imagine the marketing possibilities after you have created a single customer profile across your brick-and-mortar and eCommerce store. With bLoyal you can track both transactional and non-transactional activity to create automated customer journeys to deliver the right message and promotion at the right time. bLoyal's engagement engine then enables you to dynamically communicate to your customers via email and SMS about possible offers and discounts based on their unique path to purchase and interactions with your brand.   Encourage repeat purchases by acknowledging birthdays, promoting membership anniversaries, and marketing to lapsed customers and abandoned carts, automatically through bLoyal.
Customizable subscriptions and clubs
Shopping can be a painful process for many. The arduous task of coming to the store and picking up the required products frequently can be tiring and boring. In some cases, customers will choose the easiest versus best option for them.  By offering repeat purchases in the checkout flow, you can improve a customers' buying experience and increase your revenue.
Through bLoyal, you can personalize and automate your membership experience. Customers can subscribe to their regular products and services and can also set up a time frame for order repetition. In this way, the products will be delivered to the customers cyclically thereby enhancing continuous income for the business involved. bLoyal can help you in creating a tailor-made subscription plan for your varied customers which can allow the customer to modify the subscription plan with few clicks.
Loyalty Dashboards
One of the main focuses of loyalty programs is to enhance better visibility for customers regarding their current point balances and the progress they are making. This can be achieved by providing them with an intuitive and cognitive dashboard that will enable them to see current offers and apply discounts in-store and online.  Loyalty dashboards can also be customized to include a personalized, unique QR code to optimize customer identification at the register decreasing the drag on checkout and enhancing your customers' experience.
Referral Programs
Do you track your Net Promoter Score?  If not, it is an easy indicator to determine the likelihood that your customers would recommend your business to a friend, colleague, or family member.
An easy step is to create a referral link on your website that enables your logged-in customer to send a personalized link to their friends offering a discount for their first purchase.   In a typical loyalty win-win, your loyal customers can receive a discount for every new individual they refer, and you acquire new customers at a low, one-time cost.
bLoyal can help you automate and optimize your eCommerce loyalty program to increase your revenue. As a WooCommerce user, you get the benefit of the out-of-the-box integration with bLoyal that can be set up quickly and with minimal effort.  Give us a call today to learn more about how we can help your business!
What's stopping you!?